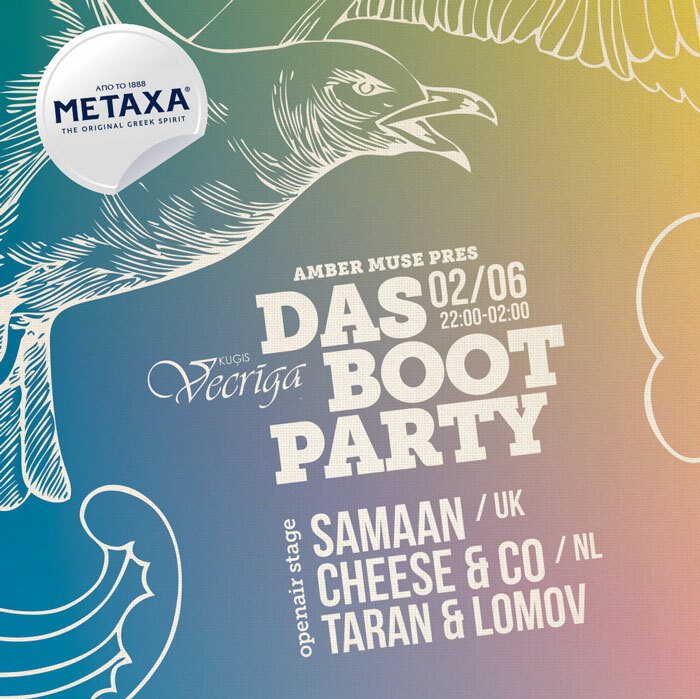 The season of summer DAS BOOT parties will begin on June 2nd – come over to celebrate summer on board of cozy "Vecrīga" boat which has a new sound system and renovated interior. Get ready for 4 hour trip with deep and tech house music.
Lineup:
► Samaan | UK | www.soundcloud.com/samaan
► Cheese & Co. | NL | www.soundcloud.com/cheese-co
► Taran & Lomov | LV | www.soundcloud.com/taran-lomov
Timetable:
22:00 boarding to "Vecrīga";
22:30 departure;
02:00 return (no stops during the journey).
Limited capacity: only 150 people on board.
Location: Vecrīga boat (11.Novembra krastmala, to the right of the Akmens bridge)
******************
SPECIAL LIMITED OFFER
Season's multipass for three Das Boot parties (June 2, July 22, August 12): €18 + booking fee
www.residentadvisor.net/event.aspx?972030
******************
Free Amber Muse mobile app
iOS: http://goo.gl/I0K6e7
Android: https://goo.gl/KhwPdD
Supported by:
Metaxa, DanceRadio.lv, www.pmtm.lv.