EVENT: Amber Muse's Fakultät: Franklin De Costa (Berlin) / 26 Apr
April 21, 2019 - 12:39 PM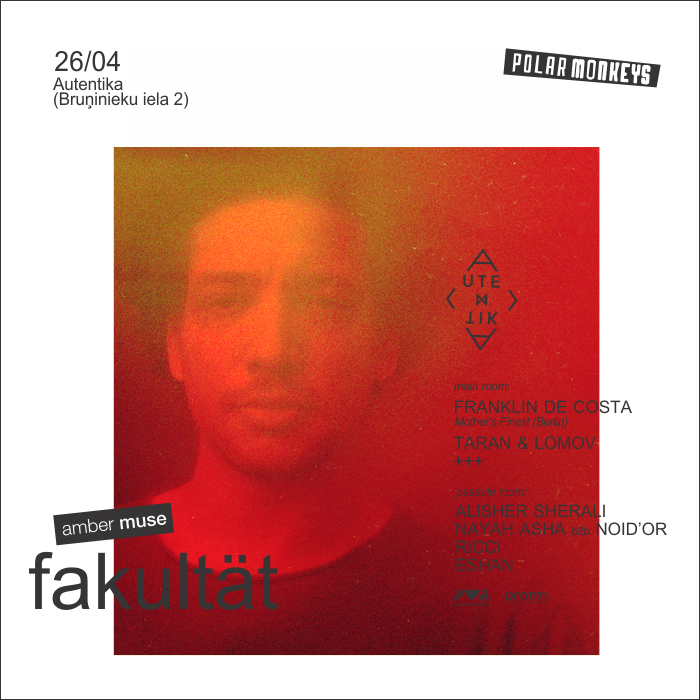 There are different parties and spots that represent the true underground Berlin club scene. Franklin De Costa stands behind one of them – Mother's Finest parties, which take place at Berlin's sleaziest club spot, Griessmuehle. This Berlin legend, who's been quietly releasing challenging, forward-facing house and techno for the best part of 20 years under a myriad of aliases, will bring the Berlin mood to the next Fakultät party in Riga.
Main room (tech/techno):
● FRANKLIN DE COSTA | Mother's Finest, Killekill (Berlin)
● TARAN & LOMOV | Amber Muse
Pasaule room (organic downtempo):
● ALISHER SHERALI
● NAYAH ASHA B2B NOID'OR
● RICCI
● ESHAN
Supported by: Polar Monkeys. Tribaltic.lv, TestPress.news, Pm-Tm. Technical: POWER Production.
Download free Amber Muse mobile app
Android: https://goo.gl/KhwPdD
iOS: http://goo.gl/I0K6e7
GDPR notice: Pics and videos captured during party will be used in online and social media.