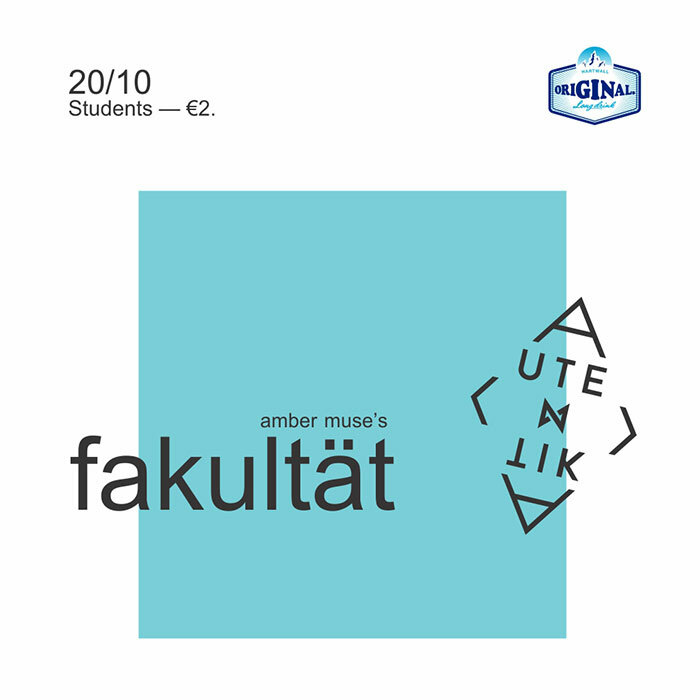 Our next party "Fakultät" will be about the music diversity: in the Dark Room we will have our very own residents and friends playing house and techno, while another room will be hosted by Pasaule team with slower ethnic electronic music.
Dark room:
● TARAN & LOMOV | Amber Muse
● NUFREAK & JOHN OBSCUR
● EAST CHO
Pasaule room:
● ALISHER SHERALI
● VIKA MIKHAILOVA
● N. VOLKOVA | Moscow
● KRISTAPS CIMBARS (flute, saxophone)
ON DOOR
€5;
€3 if you press 'Going' and share Facebook event (click this link) until 22:00 (20/10);
€2 with student ID.
Download the new version of free Amber Muse mobile app
Android: https://goo.gl/KhwPdD
iOS: http://goo.gl/I0K6e7
~~~~~~~~~~~~~~~~~~~~~
Supported by: Hartwall Original Long Drink, Easy Beer, TestPress.news, www.pmtm.lv.
GDPR notice: Pics and videos captured during party will be used in online and social media.