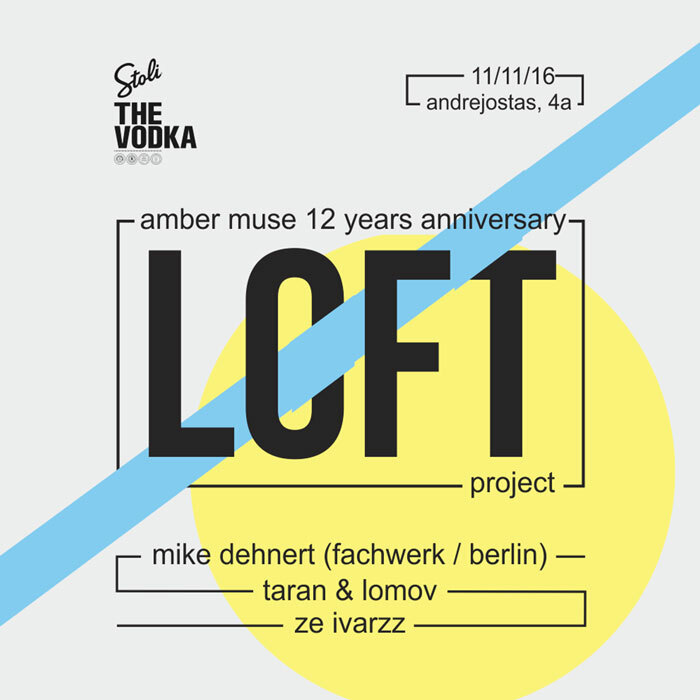 After successful launch of new event series LOFT PROJECT we continue in the same cozy urban premises of "Studio Imagine". In November we're going to celebrate 12th anniversary of Amber Muse on a big party with uber-cool headliner – Mike Dehnert, Berlin producer and live act/DJ. He runs his own label called Fachwerk Records since 2007.
Line up:
• MIKE DEHNERT (Fachwerk, Delsin, Pampa / Berlin)
• TARAN & LOMOV (Amber Muse / LV)
• ZE IVARZZ
Tickets online presale at Resident Advisor (www.residentadvisor.net/event.aspx?890110):
1st release: 5 € + b/f
2nd release: 7 € + b/f
On door:
10 €, with ISIC – 5 € until 01:00.
Location: 56.9652446,24.0953555 (Andrejostas 4a)
Download free Amber Muse mobile app v.2.0
iOS: http://goo.gl/I0K6e7
Android: https://goo.gl/KhwPdD
Supported by:
Stoli Latvia, DanceRadio.lv, Double Coffee, www.pmtm.lv.