EVENT: WERK with Phase Fatale (Ostgut Ton, Berghain/Berlin), Sep 22
September 11, 2023 - 12:09 PM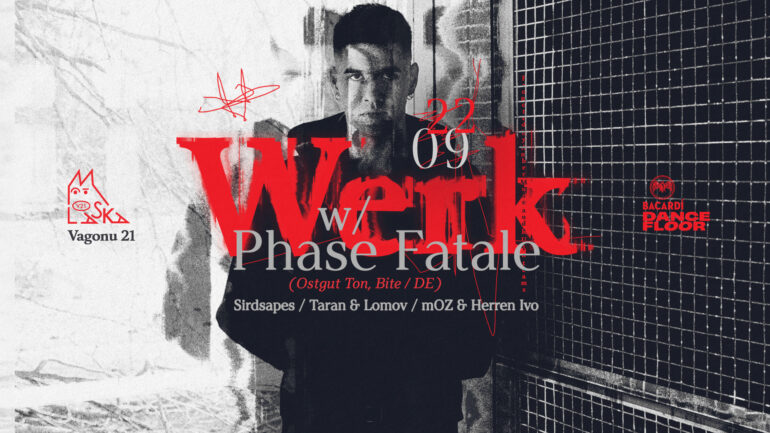 The next WERK will bring back to Riga the techno innovator — Phase Fatale from Berlin. This Berghain and Khidi clubs' resident will deliver a dystopian, gritty, industrial-laden electronica and techno.
LINEUP:
● PHASE FATALE (Ostgut Ton, Berghain, BITE / Berlin)
● TARAN & LOMOV (Ovum Rec)
● MOZ & HERREN IVO (R U iN¿)
● SIRDSAPES (Gestalt)
LOCATION:
Laska V21 (Vagonu st. 21, Riga).
About the headliner
Phase Fatale is the Berlin-based techno project of Hayden Payne. Since 2014 the New York native has earned a reputation as a techno innovator, both for the broad spectrum of dystopian, gritty, industrial-laden electronics included in DJ sets as well as his deep understanding of synthesis and sound design in his productions.
Phase Fatale has been turning heads with his debut album in 2017, and 12"s on labels such as Jealous God, Ostgut Ton, and its sub-label Unterton. He has since settled into residencies at Berghain in Berlin and KHIDI in Georgia's capital Tbilisi.
In 2018, Payne launched his label BITE, where he introduced Soft Crash – the pioneering 'Italo body music' project in collaboration with Pablo Bozzi. In 2020, Payne released his second solo album Scanning Backwards on Ostgut Ton, while 2022 saw his third solo album and the widely anticipated debut album by Soft Crash.
Phase Fatale's output as a selector, as well as his productions and curation on BITE, demonstrate Payne's unique musical vision, drawing from new and classic references: dark ambient drones contrasting with the raw, punchy dynamics of industrial and post-punk, cold wave aesthetics combine with 4/4 techno functionality – all stitched together meticulously with strong atmospheric sensibilities, careful and precise mixing.
* WERK (slang word) with the meaning "Work", "Cool" or "Great." To do something to an exceedingly excellent capacity.
GDPR notice: By attending this event, you agree to have photos or videos of you taken for Amber Muse marketing purposes. You can refuse to be photographed or filmed by informing the photographer or camera person.