EVENT: WERK: TWR72 (Turbo, Planet Rhythm/NL) / 18 June [secret place]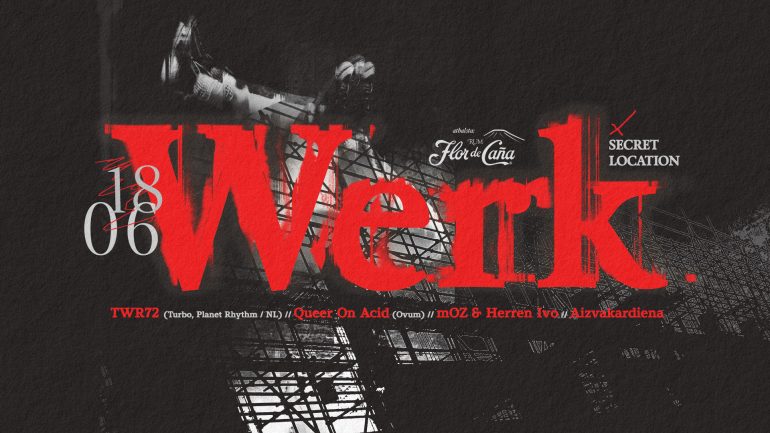 Riga will have the new electronic music club soon, and we have that privilege to test the new venue before its official opening at the second WERK event. We got an ultra-dope techno lineup for you!
LINEUP:
● TWR72 (Turbo Rec, Planet Rhythm / NL)
🎧 https://soundcloud.com/twr72
● QUEER ON ACID (Kneaded Pains, Ovum Rec)
🎧 bit.ly/queeronacid
● MOZ & HERREN IVO (R U IN?)
🎧 bit.ly/mozherrenivo
● AIZVAKARDIENA
🎧 bit.ly/aizvakardiena
Amsterdam based TWR72 premiered a collaboration with US techno giant Truncate in 2014. This was the same year in which his imprint Float Records was established. 2016 started phenomenal with a debut in techno's most praised club, BERGHAIN, which was followed by the success of the release 'X' , and touring around Europe and the US. Since then, TWR72 delivered releases and remixes at such a powerful imprints as Turbo Rec, Boysnoize Rec, Arkham Audio, Hayes, Kitsune, and his own eponymous label to mention a few. Tracky, stripped-back and tough as hell, TWR72, delivers an ultra-lean cut of prime techno.
TWR72 will be joined on stage by the local forces in the form of two duos: QUEER ON ACID (Kneaded Pains, Ovum Rec) and mOZ & HERREN IVO (R U IN?), as well as one of the freshest and exciting names on Latvian scene, DJ and producer AIZVAKARDIENA.
TICKETS PRESALE: ra.co/events/1543739
€8 / €10 / €12.
ON DOOR: €15.
LOCATION
The event location will be sent to your mail after the ticket purchase. Please check mail from [email protected]. The location will also be announced on the day of the event in our Telegram channel (t.me/ambermuse).
* WERK (slang word) with the meaning "Work", "Cool" or "Great." To do something to an exceedingly excellent capacity.