EVENT: WERK: Mark Broom (Rekids, Cocoon / UK) @ One One / 9 Apr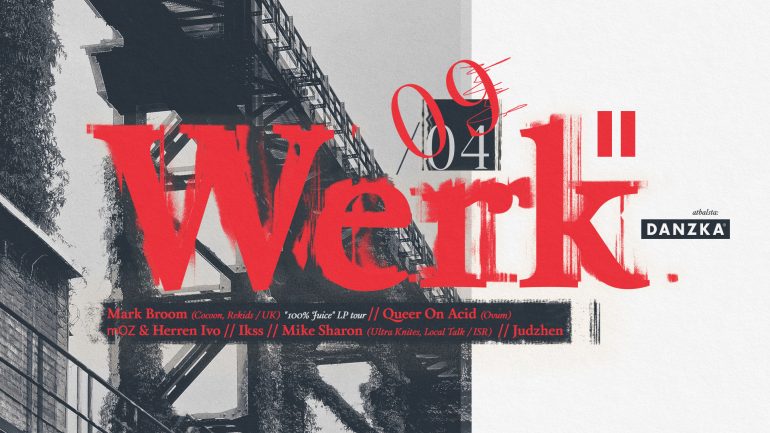 Techno room:
● MARK BROOM (Rekids, Cocoon / UK)
● QUEER ON ACID (Ovum, Kneaded Pains)
● MOZ & HERREN IVO
● IKSS
House Room:
● MIKE SHARON (Ultra Knites, Local Talk / ISR)
● JUDZHEN
In the box of every techno DJ, there is sure to be one or more records of this producer. The list of his most played clubs starts with the world-renowned Berghain (Berlin). He has a myriad of production credits to his name having worked with world-renowned labels such as Blueprint Records, Rekids, M-plant, EPM, Cocoon, Bpitch Control, Warp Records, and the legendary Ifach with Baby Ford. UK techno star, MARK BROOM will headline WERK party! In April, his new LP "100% Juice" will be released on Rekids. Broom comes to Riga to celebrate the release of his new album.
Mark Broom in the main room will be joined by the strong local artist line-up: Queer On Acid (Ovum Rec, Kneaded Pains, Takeout, Step Rec), the prominent mOZ & Herren Ivo, and the One One resident DJ – Ikss. House room will be hosted by Israeli house producer who runs Ultra Knites imprint and released with renowned Local Talk – Mike Sharon, and crowd-pleaser Judzhen.
* WERK (slang word) with the meaning "Work", "Cool" or "Great." To do something to an exceedingly excellent capacity.
START: 23:00.
VENUE: One One (Sarlotes 18a, Riga).