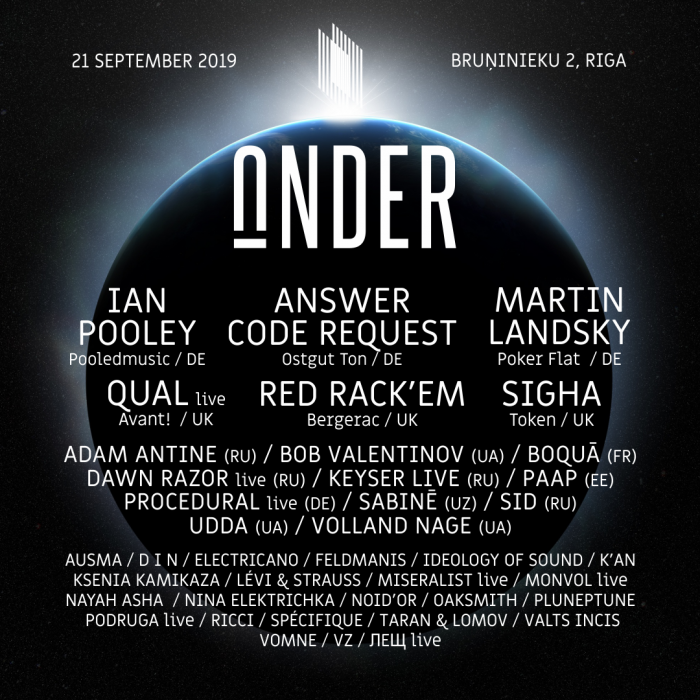 UNDER Festival 2019
Electronic Music Festival
RIGA // 21 SEPTEMBER
Electronic music festival UNDER 2019 is coming on 21st of September. For the third time we will share love for quality electronic music, this time at Autentika Art Space (2 Bruninieku str.) in the former Kimmel brewery quarter built in 1850's. 40 international and local artists, 3 indoor and 1 open-air stage, quality sound system, graffiti, video, food and chill zones for your festival experience in city of Riga.
Artists:
Answer Code Request (DE)
Ian Pooley (DE)
Martin Landsky (DE)
QUAL live (UK)
Red Rack'em (UK)
Sigha (UK)
Adam Antine (RU)
Bob Valentinov (UA)
Boquā (FR)
Dawn Razor live (RU)
Keyser aka Freaky Biff live (RU)
Paap (EE)
Prcdrl aka Procedural (DE)
Sabinē (UZ)
SID (RU)
UDDA (UA)
VolLand Nage (UA)
Ausma
D I N
Electricano
Feldmanis
Ideology Of Sound
K'AN
Ksenia Kamikaza
Lévi & Strauss
Miseralist live
Monvol live
Nayah Asha
Nina Elektrichka
Noid'Or
Oaksmith
Pluneptune
PODRUGA live
Ricci
Spécifique
Taran & Lomov
Valts Incis
VOMNE
VZ
ЛЕЩ live
Tickets:
www.bezrindas.lv/lv/under-festival-2019/6783.
Location: Autentika Art Space (Bruninieku str. 2, Riga).