EVENT: Disco Darko with Pablo Bozzi (Berlin) @ Laska V21 / July 28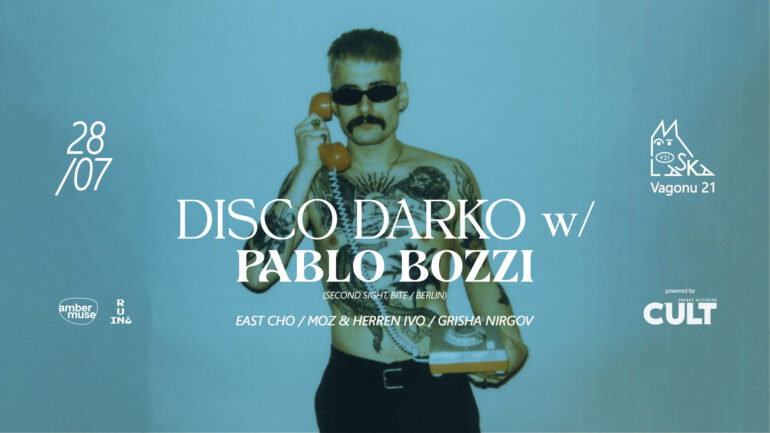 We're overwhelmed to announce the headliner's name of Disco Darko in July – PABLO BOZZI will bring his Italo Body Music magic to the Riga crowd. He will be joined on decks by the event residents.
LINEUP:
● PABLO BOZZI (Second Sight, Bite / Berlin)
● EAST CHO (Nein Records)
● MOZ & HERREN IVO (R U iN¿)
● GRISHA NIRGOV
START: 22:00. VENUE: Laska V21 (Vagonu iela 21).
About Pablo Bozzi.
Over the past couple of years, it seems everyone has turned their gaze towards Pablo Bozzi. The Berlin-by-way-of-Toulouse producer and DJ have taken the club scene by storm with releases he's coined Italo Body Music. The particular concoction of Italo Disco melodies overtops the brutality of an EBM beat—often a funky groove but with an edge—boasts the precision of Bozzi's productions that derive from his classical music background.
His passion for Italo Disco, Synthwave and the sonic and aesthetic landscape of the 80s led him to release a solo EP «Walk On Wire» on the Berghain resident's label, Phase Fatale. This EP marks the beginning of his will to reinterpret these genres with a modern touch.
Shortly after this release, Bozzi and Phase Fatale joined forces to create their duo Soft Crash, describing this music as «Italo Body Music». Throughout this unprecedented period, he has been busy honing his sound through several releases and remixes, including the «Last Moscow Mule» EP released on Jennifer Cardini's label, Dischi Autunno, as well as his Second Sight residency on Berlin's streaming platform HÖR.
But not only Bozzi's productions steal the show: his DJ sets are an exciting whirlwind of genres. From appearances at the renowned Panorama Bar / Laboratory to his residencies at Tbilisi's Khidi Club (plus a Khidi Boiler Room), and Berlin's streaming radio residency, HÖR, there's no stopping his insatiable, high-energy spectaculars.
GDPR notice: By attending this event, you agree to have photos or videos of you taken for Amber Muse marketing purposes. You can refuse to be photographed or filmed by informing the photographer or camera person.