EVENT: Disco Darko with Chinaski (Live At Robert Johnson/DE) @ Laska V21, Oct 21
September 26, 2023 - 12:39 PM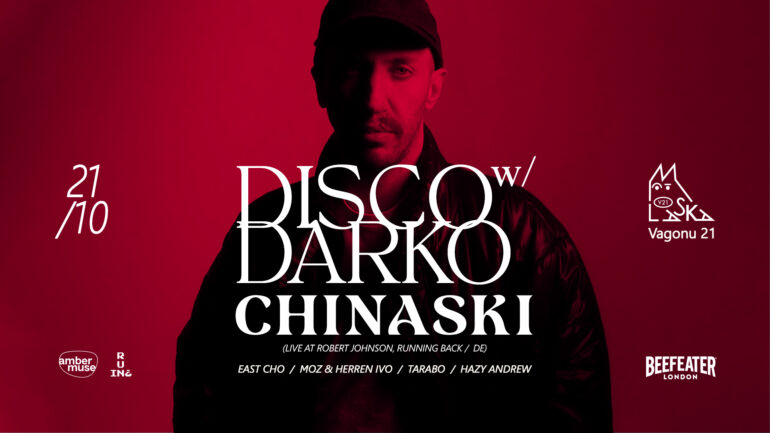 The next episode of East Cho's DISCO DARKO party series will see the rich Frankfurt music scene artist — Chinaski! With three albums under his S-F-X alias, this talented DJ and producer has a back catalogue of releases on renowned Live At Robert Johnson, Running Back, and Permanent Vacation to mention a few.
LINEUP:
● CHINASKI (Live At Robert Johnson, Running Back, Permanent Vacation/DE)
● EAST CHO (Nein Records)
● mOZ & HERREN IVO (R U iN)
● TARABO
● HAZY ANDREW (R U iN)
LOCATION:
Laska V21 (Vagonu st. 21).
About the headliner.
Stefan Haag aka Chinaski aka S-F-X is a sound and visual artist, producer, and DJ based in Frankfurt am Main. Born in Northern Germany and coming from a background in digital arts, his endeavours in electronic music are not new: Stefan has been producing for years to develop his signature sound built upon hooky synth lines. His work has consequently brought him to Robert Johnson, in whose vicinity he stayed to become a resident in 2014. He has also released with Omnidisc, Bordello A Parigi, and Kitjen, among others. As Chinaski Stefan addresses the dance floor as a joyful space, where the roots and the contemporary of electronic dance music walk hand in hand. With his side project S-F-X the two sides of his practice – the love for soundscapes and the cinematographic – merge into an audio-visual continuum where the hypnotic and the melodic take over in a downtempo ride.
Supported by Beefeater and TestPress.news.
GDPR notice: By attending this event, you agree to have photos or videos of you, taken for Amber Muse marketing purposes. You can refuse to be photographed or filmed by informing the photographer or camera person.