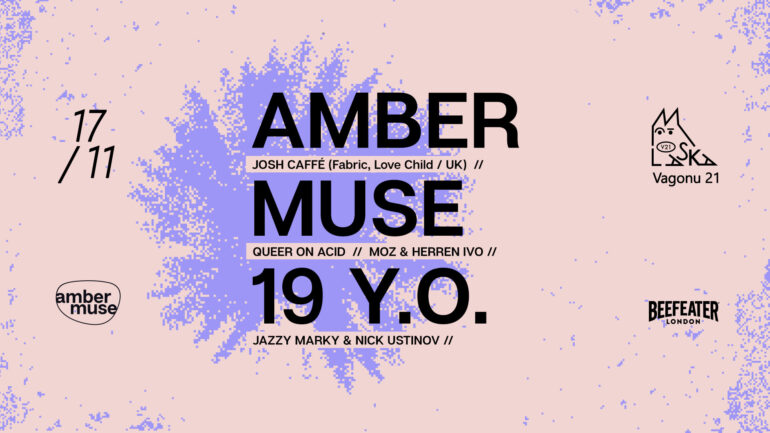 Join us for a night of electrifying beats and unmatched vibes as we mark our 19th anniversary! It's not just a party; it's a celebration of the music, the people, and the unforgettable moments that have shaped Amber Muse's legacy. Let's come together, dance the night away, and create new memories on this momentous occasion.
LINEUP:
● JOSH CAFFÉ (Fabric, Love Child / UK)
● QUEER ON ACID (Ovum Rec)
● mOZ & HERREN IVO
● JAZZY MARKY & NICK USTINOV
+ special vinyl set & talk by Bogdan Taran
Date: 17 Nov
Venue: Club Laska V21
Time: 22:00-05:00
▔▔▔▔▔▔▔▔
Josh Caffé is a DJ, singer/songwriter, producer from London, whose influence in the last decade was everywhere from Panorama bar to his Love Child party residencies at the club Fabric. Collaboration with international icons of dance music and fashion such as Honey Dijon, work alongside Paranoid London as a vocalist, and the debut album "Poppa Zesque" on Erol Alkan's label Phantasy Sound, has brought him more visible and respected presence. Caffé's solo material, as well as his DJ sets, is charismatic, frenetic and rich in inspiration, from classic Chicago house, UK acid culture, 00s rap and his twin heroes, Prince and Grace Jones, and is his boldest statement yet about his vision of queer liberation and sensuality.
To kick off the party, Amber Muse founder Bogdan Taran is preparing a special vinyl set, during which he will also talk about some of his favourite records.
▔▔▔▔▔▔▔▔
Supported by Beefeater and TestPress.news.
GDPR notice: By attending this event, you agree to have photos or videos of you taken for Amber Muse marketing purposes. You can refuse to be photographed or filmed by informing the photographer or camera person.