Denis Shubin – HouseMyHouse EP (AMBR032)
January 22, 2019 - 4:59 PM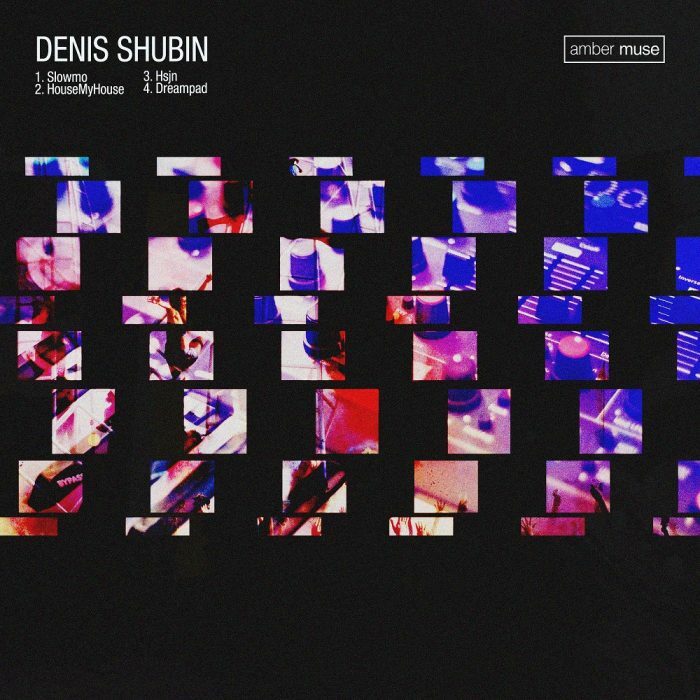 Denis Shubin from Saint-Petersburg (Russia) is deep into electronic music: he has been constantly DJing and promoting parties as Tekstil Music co-founder for many years in his native city. These days you can find him in the booth of club "KPD" or in his studio, where he spends a lot of time searching for new colours of electronic music, mixing the sound of old-school samplers, analogue synthesizers and a multiplicity of effects. You might remember his tech-house moniker Shmix, but now Shubin moved in the new, sophisticated direction, and feels totally at ease in both techno and house.
In his second solo-release "HouseMyHouse" EP (the first was at Plant 74 Records last spring) Denis Shubin explores the beauty of underground house music: his four-tracker is all about melancholic and beautiful melodies, touch of acid, percussive patterns, deep pads and moving bass lines.
Release date: 18 Jan 2019 (Traxsource Exclusive), 25 Jan 2019 (Official). Buy here: https://fanlink.to/HouseMyHouse.
Feedback:
Laurent Garnier
"Superb EP, Superb music …. Looove this. Will play for sure"
Fish Go Deep (Defected)
"beautiful stuff real musical house music how I like it ,will feature on next weeks radio show , all tracks work for me great production can wait to play it out ,full support as we used to say"
*5/5 / Fav: Hsjn
Shur-i-kan (Freerange)
"Cool tracks – yes these are down my street for sure, Slowmo and Hsjin are my favourites. Will support on the next show!"
Jimpster (Freerange, Delusions of Grandeur)
"Really nice sounding release here. I like House My House and Hsjn"
Roger Sanchez
"Thanks for the music, Roger"
*4/5 / Fav: Slowmo
Richy Ahmed (Hot Creations)
"wkd"
*4/5 / Fav: Slowmo
Lars Behrenroth (Deeper Shades Of House)
"great release .. will play"
*4/5 / Fav: Slowmo
Gene Farris (Farris Wheel, Snatch!)
"thanks!!!"
*5/5 / Fav: Slowmo
Holger Zilske (Smash TV)
"like it. thanx a lot"
*4/5 / Fav: Slowmo
Lavvy Levan (Friday Fox Rec)
"Super deep, spacey and sultry. Support."
*4/5 / Fav: Slowmo
Greg Fenton (DMC magazine, Magazinesixty)
"Good track"
*3/5 / Fav: Slowmo
Jay-J (Defected)
"Downloading for Jay-J"
*5/5 / Fav: HouseMyHouse
DJ Simi (Stereo Productions, Snatch!)
"Y E S !! Thanks"
*5/5 / Fav: Hsjn
Eddie Niguel (Midnight Shift, Integrity)
"Slowmo is dope.. liking Hsjn as well.. Thx!"
*4/5 / Fav: Slowmo
Neverdogs (Decay, Oblack)
"downloading for neverdogs"
*3/5 / Fav: Hsjn
Onur Özman (Rebirth, Noir Music)
"top EP! full support"
*5/5 / Fav: Slowmo
Mark Mackenzie (Fly Boy Records)
"Really smooth jams, thanks a lot!"
*5/5 / Fav: Slowmo
Carlo (Neovinyl, Good Ratio Music)
"Super nice release 🙂 I will play it for sure"
Kostya Outta (Sincopat, Dear Deer)
"Отличный релиз, мне понравились треки, особенно HouseMyHouse – очень красивый, думаю, найду для них место в своих сетах".
Sergei Sapunov (Plant 74, Oblack)
"Крутой релиз"
Bombossa Brothers (Elrow Music / Fuse)
"Thanks for the promo!"
*4/5 / Fav: HouseMyHouse
Rules Of The Deep (Raadio 2)
"Absolutely love Slowmo and Hsjn! good work!"
*5/5 / Fav: Slowmo
Ricky Inch (Ossom radioshow)
"hank you! Well done. Like it."
*3/5 / Fav: Hsjn